Women are Disproportionately Impacted by the Pandemic – Your Call to Action for Women's History Month

My first career milestone came in 1982 when one of the nation's premier financial institutions welcomed me into its formal training program. Having never viewed my gender as career relevant, imagine my surprise on Orientation Day when one other woman and I sat among twenty black men with a flip chart – prominently positioned – with the words "Welcome to our Minority Internship Program." While my title recollection may not be precise, learning I was a "minority" has never faded. In America, the needle for women has moved in the last four decades. But, enough?
March, encompassing both Women's History Month and International Women's Day, celebrates, honors and remembers the women on whose shoulders we've stood. And, these observances invite deep reflection and resolve. Using COVID-19 as a lens, as well as seeking a future where gender equity is secure, we share below some pandemic-related examples and questions to consider.
1. Additional Stress
Data suggests that women are more likely to work in "frontline," essential occupations and are the majority of health care workers. With half my career spent supporting those in health care, examples were ample. My indelible perception is that of women drawn to and living the life-saving mission of their hospitals, while equally muffling self care. There's a persuasive argument for airlines to prescribe that passengers "put (your) oxygen mask on first, before assisting others." Yet, women's history, including as recent as this pandemic, illustrates women tackling more rather than doing less.
Caregiving (eldercare, childcare and care for any sick family member) and other domestic duties disproportionately fall to women. Consider the following:
Closed daycare centers and closed, remote and/or hybrid schools; homeschooling – The evidence suggests that women are most impacted by these societal realities and that economic recovery is hindered as a result.


Eldercare and care for other family members – The pandemic has escalated time off and leaves of absences, with women's requests outpacing men's. Employers who are reviewing paid leave policies for inconsistencies, particularly gender bias, are investing wisely. What hurdles are expected in states, like Massachusetts, where new paid family & medical leaves will challenge all employers who aren't planning their contingency staffing needs?



Women often defer caring for themselves – Exposure to the pandemic, coupled with less time for themselves, created additional reasons that many of us ignored our medical care needs. Skipping preemptive screenings such as mammographies, colonoscopies and pap smears are precisely the reasons many women are faced with graver diagnoses than originally may have been needed. Will deferring our care impact long-term health care costs or predict additional leaves?
Caregiving burden is influencing decisions to choose between work and family.
Four times as many women as men dropped out of the labor force in September of 2020. There were predictions that the pandemic would severely and lopsidedly impact women. It has. This reality is harsher for women of color:
"Black, Latinx, and Indigenous women especially — all of whom face intersecting oppressions — are also feeling the multiple effects of being more likely to have lost their jobs, being on the front lines as essential workers, and solving their child care challenges on their own. As a result of a variety of factors, including policy choices grounded in racism and sexism, low-wage workers, solo mothers, and women of color — three groups with considerable overlap— are all too often not in the economic position to leave the paid labor force to care for their children."1

2. Behavioral Health
"A new study by nonprofit international aid organization CARE has revealed that the pandemic has caused a crisis in women's mental health. One of the biggest disparities they found in their research was that 27% of women had reported increases in challenges in relation to mental illness. This compared to 10% of men."2
How are we, as employers, reacting to this reality beyond referring to our EAPs or adding bullets to our tip sheets? Are you actively engaging with your health care providers on utilization data knowing they are eager to partner with us? Are we confident that employees will find in-network providers taking new patients? Do we make emergency dollars or loans available to struggling households? Have you reviewed your retirement plan activity for upticks in loan requests, and do your policies offer guardrails for those who otherwise may veer off track? There are influence points we can consider. Knowing so many of them may favorably address the pandemic's impact on women's mental health, choose anything. Let's avoid making 'perfect' the enemy of 'good.'


3. Pay Inequality
There would be few events for me that would compare to hearing we've closed the gender wage gap during my lifetime. Data from Massachusetts continues to evidence the evasiveness of a closed gap when Baystate women earn 83 cents for every dollar her male colleagues earn. "This ratio is even worse for most women of color with Asian women earning 84 cents, Native women earning 64 cents, African-American women earning 59 cents, and Latina women earning 51 cents on the dollar."3
Consider then that "research shows that women often incur a pay penalty on returning to work after a prolonged absence—earning 7 percent less on average than men in the same position."4 Given that the pandemic has increased absences and women leaving the workplace altogether, should we anticipate soon an even wider gender wage gap? This week, NEEBC is reflecting through social media on the health, or not, of women's wages. Today, March 24th, is National Equal Pay Day, a date recognizing "how far into the year women must work to earn what men earned in the previous year."5 Let's collectively be watching. As a nonprofit whose mission includes total rewards, there's a responsibility to encourage leaders to consider pay transparency – use the pay calculation tools for employers (https://www.mass.gov/massachusetts-equal-pay-law), consider internal equity every time, and support organizations seeking to close the gaps for good (e.g., https://thebwwc.org/).


4. Sidelining Career/Leaving the Workforce Impacts Career Advancement
In a recent Deloitte study, we learned "that nearly seven out of 10 women who experienced negative shifts in their routine as a result of the COVID-19 pandemic believe their career progression will slow down."6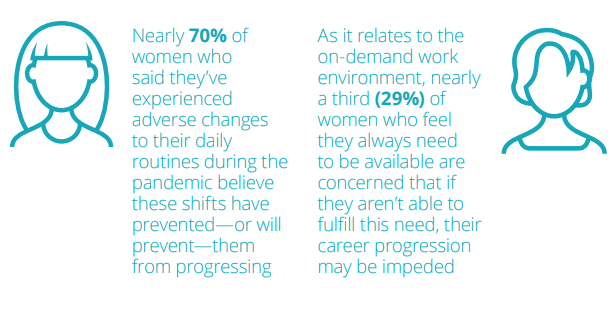 5. Reduced 401k/Retirement Savings
Pay isn't the only gender gap on which COVID-19 has cast a spotlight. Retirement savings also have been impacted. Statistically, women generally make less than men AND "take more time out of the workforce to care for children or family."7 Given that women also tend to outlive men, saving for their later years is critical. "The coronavirus pandemic has exacerbated many of these already existing issues and is why the ensuing recession has been dubbed a 'she-cession.' Women, and especially women of color, have been more likely to lose their jobs due to overrepresentation in industries hit by Covid, such as leisure and hospitality. They've also been more likely to lose work due to caregiving duties, either of children that are doing online schooling at home or elderly family members. All of these things negatively impact the ability to adequately save for retirement."8
Have you asked your retirement partner about any gender-specific items in your retirement plans? Who is examining the requests for loans and hardship withdrawals? Are female staff members outpacing males in making those requests, and if so, are you viewing that activity as the possible warning sign it is? When is the last time you offered retirement readiness workshops or conversations? The pandemic's current virtual presentation format has been a welcome medium for financial well-being topics, with your trusted financial partners eager to support. Let them.
---
 If you haven't already, I encourage you to be motivated by March's women's history theme. You've seen in this blog some questions to ask yourselves. In closing, we offer a few other suggestions on the theme:
Learn more about caregiving and opportunities for your workforce:



Caring for Caregivers (Teri Weber, Spring)
Seven Steps for Creating a Corporate Family-Caregiving Strategy During COVID-19 (Carolyn Romano, Torchlight)

Familiarize yourself with organizations working to eliminate the gender wage gap and consider taking the first step towards internal equity (e.g. WAGE Project/Evelyn Murphy).



Change starts at the top.

Learn why Prioritizing Workplace Flexibility is a cultural imperative

 (Kathleen Schulz,

 Gallagher); schedule conversations with your leaders.


Share Retirement Planning Tips for Women with peers and colleagues (Julie Doran Stewart & Alan Pfeffer, Sentinel Benefits & Financial Group).


Familiarize yourself further on the pandemic's impact on women. NEEBC is in the midst of offering our COVID 411 4-part series on the topic. Next up on April 7th, we're exploring social determinants of health as related to COVID, and gender is among them. Later in the series, experts tackle serious impacts to mental health and recommend mitigations.
Gender issues are daunting, I realize. They can become less so with any action taken. My response began when I was labeled "minority" in the 1980s, and certainly it progressed while raising three adult daughters who are raising their children with gender neutrality that inspires. Every day I seek ways to honor women's history, which for me – as an employer and woman – means eradicating gender disparity in all its forms. Please join me.
---
1https://www.americanprogress.org/issues/women/reports/2020/10/30/492582/covid-19-sent-womens-workforce-progress-backward/
2https://www.forbes.com/sites/alicebroster/2020/09/25/coronavirus-has-caused-a-crisis-in-womens-mental-health-according-to-study/?sh=b9571ad73dbf
3https://www.mass.gov/equalpayma-closing-the-wage-gap-in-massachusetts
4 https://www.shrm.org/resourcesandtools/hr-topics/compensation/pages/pandemic-could-worsen-gender-pay-gap.aspx
5 https://www.pay-equity.org/day.html
6 https://www2.deloitte.com/content/dam/Deloitte/global/Documents/About-Deloitte/gx-about-deloitte-understanding-the-pandemic-s-impact-on-working-women.pdf
7 https://www.cnbc.com/2021/01/27/covid-has-hurt-womens-retirement-accounts-heres-how-to-rebuild.html
8 https://www.cnbc.com/2021/01/27/covid-has-hurt-womens-retirement-accounts-heres-how-to-rebuild.html
---
Robin Antonellis is the Executive Director of NEEBC and an advocate for women supporting women.  She credits and thanks her NEEBC colleague Lisa Raphael as the primary researcher and resource for this blog.
[email protected] | LinkedIn Profile | Bio
Share this post: