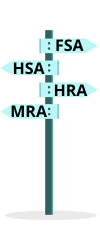 Amid the COVID-19 pandemic, we find each day brings new information and challenges. But sometimes, all we want (and need) are answers. Read how you can assist your employees during this uncertain time.
Question 1: Can employees change their FSA elections?
Under current rules, employees are permitted to make FSA election changes when they have a qualifying event. For those getting married or having a baby, the distinction might be easy.