Cost: $170 members; $220 non-members
Register Now or call 781-684-8700 for assistance

---
Drug overdose is the leading cause of accidental death in the U.S., and opioid addiction is driving this epidemic. In 2016, in Massachusetts alone, 2,069 people died as a direct result of opioid abuse and addiction. Opiate deaths have now surpassed past peaks in car crashes, HIV and gun deaths.

Why should this matter to employers?
Opiates are the number 1 prescription by volume for most employer groups.


Undisclosed opioid use may not be recognizable in the workplace and has the potential to cause impairment and increase workplace incidents, errors and injury even when taken as prescribed.



Workers with pain medication use disorder miss 3 times more work than their peers (29 days on average).
---
Opiates are having an impact on your business, whether you know it or not!
As the opiate use disorder epidemic continues to grow, there are a number of opportunities for employers to address this epidemic within their workplaces.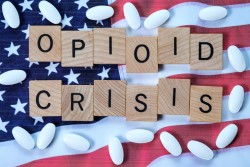 Learn from industry experts, local health plans and employers, key strategies and tactics to help your organization:
Erase the stigma surrounding the disease of addiction





Increase and ensure confidential access to help and treatment for employees





Partner with your Medical, PBM and EAP providers





Establish workplace policies and procedures that relate to opioids





Provide manager and employee education on available programs and resources





Develop detailed job descriptions, especially for safety sensitive jobs
---
Speakers
John McKelway - Partner, McCarter & English, LLP
Dr. Robert 'Neal' Mills, MD, MBA - SVP, Medical Director, Aon
A Panel of Employers, Carriers and EAP Providers will discuss their solutions.

Thank you to One Medical for sponsoring this program.


NEEBC programs may qualify for CEBS continuing professional education (CPE) credit. Participants must determine if the program aligns with "CEBS Content Domain."
Agenda:
8:00 am - 8:30 am - Registration & Breakfast
8:30 am - 12:00 pm - Program