Flexible and Remote Working – Powerful Benefits for You and Your Employees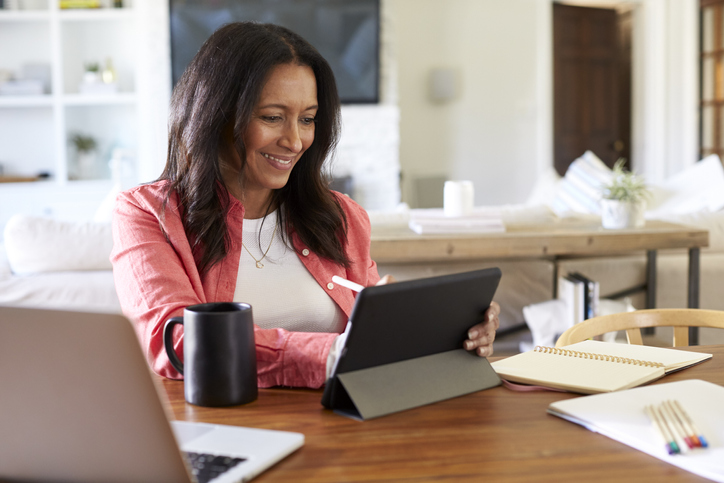 With the outbreak of the COVID-19 virus and increasing mandates for people to remain at home, organizations are having to rethink ways to continue operations. What was once considered a nice-to-have benefit has now become the new normal for many Americans – remote working. What's surprising to many organizations is how effective remote and flexible working can be. When we get back to business as usual, it will be interesting to see how many organizations continue to offer these benefits as our research indicates considerable value, even in normal times.
Our Research
Over the past few months, Fidelity Investments® conducted two studies on how employers and employees value their benefits. From the employer research that we conducted in 2019, we saw that offering flex-time was one of the most valuable benefits to improve an organization's recruitment rates, as employees are looking to work with progressive employers that understand that having authentic work-life balance is important.
We were curious if the employee perspective differed, so we conducted a second study at the end of 2019 and learned how both remote work and flex-time positively impact overall employee well-being. Employees were very aware (78%) if their employer offered a remote work benefit. But the most interesting insight we had was that the impact on their well-being was increased even if they didn't use the benefit. There was a halo effect – just knowing that they had the option was enough.
As for Flex-time, employees were a little less aware (69%) as to whether their employer offered this benefit or not. In this case, 59% of survey respondents were using the benefit. With flex-time, employees needed to be using the benefit to feel the well-being effects (no halo effect). However more than 50% stated that flex-time was a key part of them wanting to "stay at their job," so flex-time becomes a key benefit to enhance your employee retention.
---
Additional Benefits
Cost savings—Employers who offer remote work and flexible work options have more freedom to restructure their traditional work space. Some organizations can reduce their office footprint, saving on the ever-increasing cost of real estate in cities, and create a more modern feeling with an increased focus on workforce collaboration.
Productivity—A notable study conducted by Stanford University over the course of two years addresses concerns about the productivity of employees working remotely, and the results have been striking.¹ Employees who have the option of working from home are often found to be more productive. Many employees save time on lengthy commutes and are shown to even take fewer breaks at home (be that good or bad). Some employees also work longer hours from home taking some of that commute time and applying it to their work.
Employee health and satisfaction—As countries around the world battle with the unprecedented ramifications of the Coronavirus, having a remote work option in place can help to maintain the health of employees and keep business running as usual. Even in less striking global situations, an employee who isn't feeling well enough to come to the office, but is still well enough to work, can work remotely and avoid infecting others. Employees are also more satisfied having this option, with approximately half of all employees surveyed in our benefits research reporting feeling "very good" or "excellent" about work when flextime and remote work are offered, regardless of whether or not they get a chance to use them. Having a happy employee base absolutely ties back to the overall culture and productivity of your organization.
---
Considerations
Upfront preparation—In realistic terms, there is an upfront cost to outfitting employees for remote work. At the very least, the company will need to provide a computer for employees to work from home. Some set ups also include additional monitors, computer accessories, headsets, and more. It's also important that they are equipped with reliable internet and have what they need to connect effectively with other team members, like video capabilities. There are also often logistical challenges for security to ensure that remote work is legally compliant and maintains customer privacy that must be met for remote work to be a success.
Not all jobs—We all know that there are certain positions where remote work is not feasible: our retail storefront workers, care-givers, face-to-face customer service representatives, factory workers and more. In these situations, flexible work options are more important, especially as we have a cultural shift in favor of work-life balance. Offering a flexible work option can mean the difference between an employee taking an hour or two to handle a family demand or personal errand, or a full day of lost productivity and shift scrambling when you have short notice. Building a culture around flexibility allows employees to be more open with their needs, builds greater loyalty and results in fewer last-minute sick days.
If your company relies on employees being present in the work place, the Human Resources team may need to get creative on how they imagine a flexible offering. For instance, I recently heard about a company that requires its retail workers to work overtime at the end of their shift if the business requires it. This can be a real challenge for those with evening obligations, such as childcare. In this case, employees are able to opt out of their overtime once every five times they are asked to stay. It's been a win-win for all involved. The employer has factored the opt-out into their planning, so it's not a fire-drill each day, and employees are appreciative and feel heard. 
---
Conclusion
Offering remote and flexible work options improves the overall satisfaction of the workforce, allowing them to handle life situations when they come up, while still being productive. As these benefits increase in popularity, employers do need to consider how these benefits could impact the feeling of social connectivity among their employee base, as well as establishing some cultural norms about "unplugging" at the end of the day. As the baseline expectation for benefits broadens among the modern workforce and tailoring a suite of benefits to meet the needs of diverse employee populations continues to be a challenge, consider flexible and remote work options. These benefits can be a thoughtful and strategic way to improve your business and employee satisfaction across all demographics – and improve your overall recruiting and retention success.
---
Nancy Emerson is Vice President, Health Care Thought Leadership at Fidelity. She can be reached at [email protected]

¹Bloom, N., Liang, J., Roberts, J., & Ying, Z. J. (2015, March 3). Does working from home work? Evidence from a Chinese experiment. Retrieved March 11, 2020, from https://nbloom.people.stanford.edu/sites/g/files/sbiybj4746/f/wfh.pdf
"Fidelity Employer Value of Benefits Survey, 2019" Data represent Fidelity Employer Value of Benefits online survey of 1,600 American employer representatives in HR, Benefits, and compensation. ResearchNow, an independent third-party research firm, conducted the survey August, 2018, on behalf of Fidelity. ResearchNow and Fidelity Investments are independent entities and are not legally affiliated.
Fidelity Investments Employee Value of Benefits Research online survey of 9.465 active Fidelity 401(k) and 403(b) participants from across the United States. The survey was conducted by Health Solutions Thought Leadership in October 2019.

Fidelity Brokerage Services, LLC. Member NYSE, SIPC 900 Salem Street, Smithfield, RI 02917 ©2020 FMR LLC. All rights reserved.
Share this post: