Emerging Family-Friendly Benefits Provide a Competitive Edge
It was just a few weeks ago – although it hardly seems possible – that HR departments had more mundane concerns on their minds, such as how to attract and retain talent in a time of low unemployment rates. Today's pandemic concerns make these worries appear trite, but the tactics that forward-thinking employers are using to stand apart from their competition is worth celebrating. I hope these strategies not only give you inspiration but also put a smile on your face during these difficult times. 
— Be well, Cindy McGrath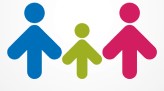 It's a bleak time with ever-changing news on the coronavirus pandemic. Human Resources Departments are under stress as they navigate the ramifications to their company's workforce and personal lives. In the midst of this crisis, here's some positive benefits news to consider when we return to our new reality. 
Family-Friendly Benefits Help a Company's Brand
Offering family-friendly benefits is one of the hottest trends in attracting and retaining employees, and
also achieves additional value:
Illustrates the values an employer champions, such as diversity and inclusion;

Improves morale;

Decreases absenteeism; and


Improves company scores on all-important job sites.
Seventy-one percent of workers have either dependent children or elder care responsibilities. Over sixty percent of families with children have both parents working, according to the Bureau of Labor Statistics. Half of working parents report that they have turned down a job because it didn't work for their family, according to a 2015 White House report. As a result of these pressures, employers are scrambling for talent recruitment and retention strategies, and are turning to family-friendly benefits.
Here's some inspiration from this year's first NEEBC Solutions Program. Take a look at the following information and evaluate how you might want to incorporate some of these programs.
---
What are Family-Friendly Benefits and the Trends?

Family-friendly benefits address the moments that matter most to an employee in their family life, according to Maggie Sloan, Principal, Mercer Health & Benefits LLC. Employers will want to look at their benefit offerings through the lens of how they tie back to the company's mission, philosophy, and values.
Inclusive Pre-Conception
The needs for surrogacy, infertility treatment, adoption, and parental leave on an equal basis vary for heterosexual couples, single individuals, and LGBTQ individuals. More inclusive employers offer family planning benefits that support employees with different family compositions: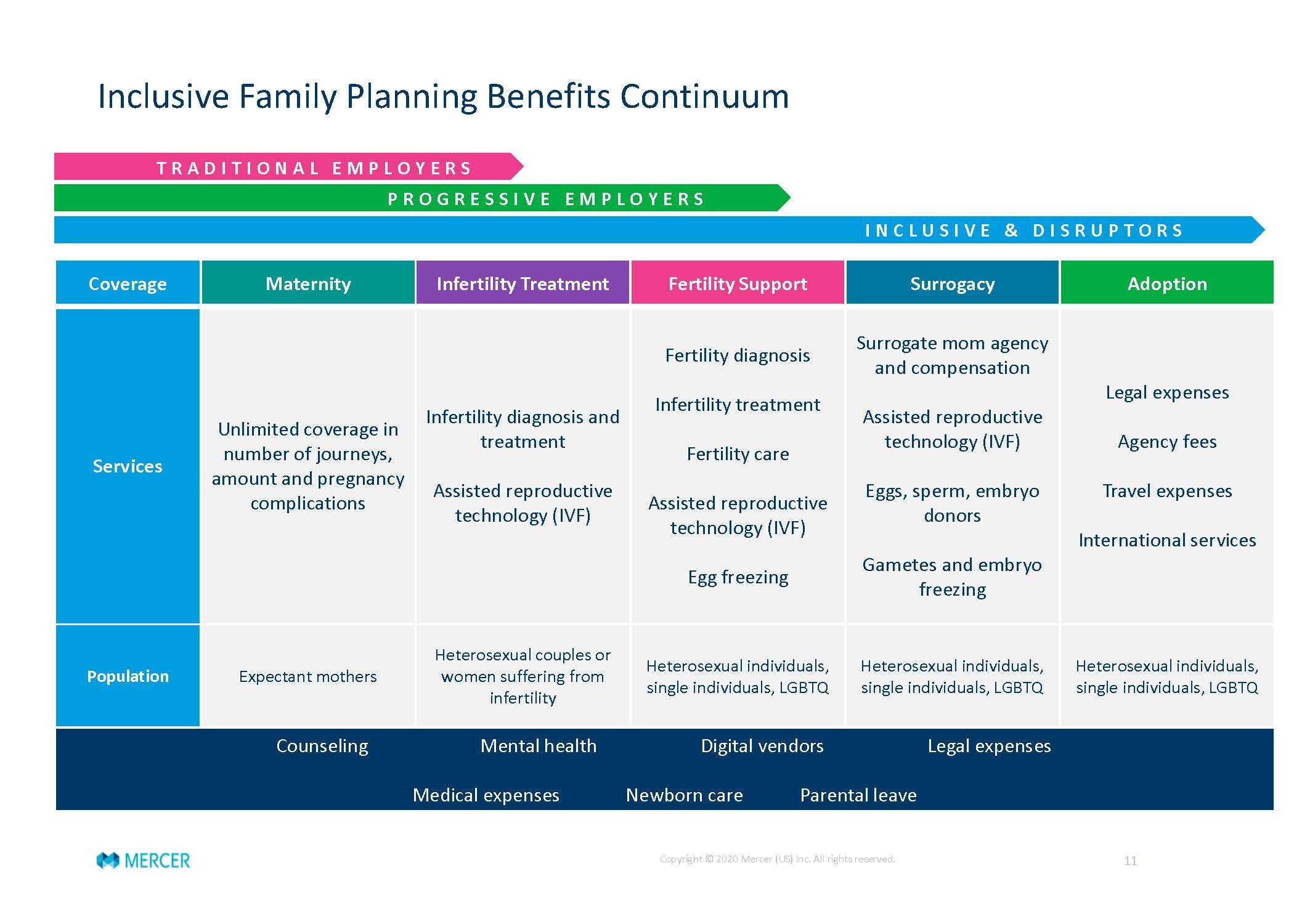 Paid Parental Leave and Flexible Work Arrangements
Nationally, forty percent of employers now offer paid parental leave, 33% offer unpaid leave, and 25% don't offer parental leave, according to Mercer's 2018 Survey on Absence and Disability Management. Despite an increased prevalence of parental leave, the median number of weeks remains unchanged from the 2015 survey:

Median Number of Weeks of Paid Leave
Birth parent (begins when disability ends) – 6

Non-birth parent (begins at birth) – 4

Adoption leave - 8
Flexible work arrangements take a variety of forms: flexible hours; compressed work week/month/year; and reduced hours. Depending on a company's products, services, and policies, employees can occasionally work remotely, always work remotely, work at different office locations, or on a rotating basis. Companies need to think through their workloads to make this possible, such as adjusting workloads, prioritizing and delegating tasks, and responding to workplace and employee needs.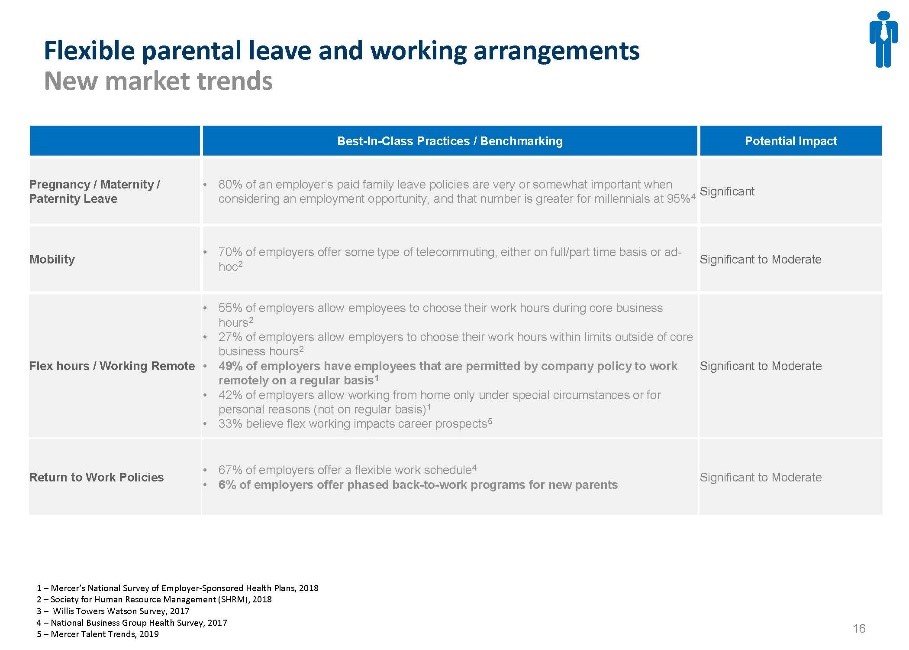 Parenting Support
Finding affordable child care is a major challenge for families. The U.S. Court of Appeals for the First Circuit found that the Massachusetts wage and overtime laws apply to au pairs, which has increased this option's costs. However, according to SHRM's 2018 report, the prevalence of childcare benefits hasn't increased over the last five years, and employers will need to bridge the child care affordability gap to retain top talent.

Percentage of employers that offer selected childcare benefits:
Child care referral services – 9%

Bring child to work in an emergency – 27%

Subsidized child care centers – 3%

Access to back-up child care – 4%
Adding Family-Friendly Benefits
To be successful in implementing family-friendly benefits, Maggie Sloan recommends a three- to five-year strategy:
Diagnose – current benefits and where you want to go

Conduct a Gap Analysis – how do you compare to your peer groups and best practices?

Determine Design Parameters – what are the values you want to support with respect to diversity and inclusion?

Implementation – map out which benefits you want to launch and when

Evaluation – after implementation, find out whether the programs are achieving your objectives
---
Innovative Employers Understand That Having Children is Complicated
Most employers view having children through the lens of a customary childbirth timeline: Pregnancy, postpartum leave, and return to work. However, reality is more complicated, according to Leslie Schrock, author of Bumpin', a modern guide to pregnancy. Instead, not everyone can conceive, some can't conceive without intervention, and some suffer miscarriages. Forty-five percent of pregnancies are unplanned.
After birth, there are postpartum concerns, such as depression, lactation and breastfeeding issues, and sleepless nights. When an employee returns to work, there's difficulty juggling work and new parenting responsibilities, and barriers such as lack of a pumping room, navigating business trips while breastfeeding, and negative manager feedback. Parents also struggle with child care arrangements, nutrition, and anxiety.
Leslie Schrock urges that employers get away from a one-size-fits-all approach to parental leave policies. Instead, she suggests that they take an a la carte approach where employees choose from a menu of options, including: food delivery, night nurse, childcare stipend, paternity leave, and a stipend for mental health care. It's critical that senior leadership serve as a model for parental leave. For example, most men take less than 10 days off due to the perception that they're a less-committed employee by taking the time. She advocates that employers:
Offer virtual access to care providers and lactation consultants

Encourage men to take parental leave

Offer more flexible policies that allow employees to choose what's best for their families

Commit to supporting their employees who are having a family and support them when they return to work
---
Best Practice Employers Demonstrate the Success of Family-Friendly Benefits
Who They are and What They Provide
Three area employers demonstrate how cutting-edge benefits can improve company rankings on all-important job boards. Boston Consulting Group, Akamai Technologies, and Ocean Spray Cranberries all offer the following benefits:
Fertility and egg freezing

Surrogacy and adoption

Back-up child care

Breastfeeding support
Boston Consulting Group offers employees generous $0 premium health coverage and 16 weeks of paid leave for mothers and eight weeks for fathers. "Senior management support is critical for the success of our programs," said Angie Coscup, US Benefits Senior Manager, the Boston Consulting Group. "Senior managers participate in group meetings and support HR teams, who are on the front line of supporting benefits."
Akamai also offers generous paid family leave and other benefits that strategically address gender diversity. "Extending parental leave impacted the rest of the team, and we needed to think strategically about how to make sure there were no business disruptions," said Sarah Sardella, Senior Director, Global Benefits & HR Operations, Akamai Technologies. "Our back-up child care utilization exceeded expectations, and we looked at what was driving the increased need and solved for that, for example, by implementing a pop-up camp for Columbus Day when child care was closed."
Ocean Spray implemented reserved parking for new mothers in response to employee feedback. "We make a point of seeking feedback from our employees and also look at the marketplace when evaluating which benefits to offer," said Susan French, Senior Manager, Benefits and Wellness, Ocean Spray Cranberries.
Communications are Critical to Success of These Initiatives
Increasing awareness of benefit programs is a challenge for employers. "Communicating to employees at the time they need particular benefits, such as when they get married, and using a consistent branding approach are beneficial," said Ms. Croscup. "We send mailings to the home so the entire family is aware of benefit options, and also feature a particular benefit monthly on our microsite so that it's digestible."
"We use all available communication vehicles, including LinkedIn, our website, benefits site, and a monthly avatar video to get the word out," said Susan French. Akamai Technologies ensures that managers are well-versed in the benefits. "We leverage the managers and give them the tools they need to manage their staff," said Sarah Sardella. "Akamai also uses social media to get the word out about our benefits, thereby promoting the company."
Results of These Efforts: High Rankings on Job Sites
Most job seekers look to company rankings on a variety of media and job sites to evaluate whether or not they're interested in applying to a job opening and accepting an offer. Family-friendly benefits can make a difference in these all-important rankings as demonstrated by the three featured employers:
Boston Consulting Group: Fortune 100 Best Companies to Work for 2019; Working Mother 100 Best Companies; Human Rights Campaign 2020 Best Places to Work for LGBTQ Equality


Akamai Technologies: Glassdoor 4.4 out of 5 Benefits Rating; Human Rights Campaign 2020 Perfect Score for LGBTQ Equality; 2019 Boston Globe Top Places to Work


Ocean Spray Cranberries: 2019 NEEBC Best Practices Award; Human Rights Campaign 2020 Best Places to Work for LGBTQ Equality; 2019 WorkWell Massachusetts Award
---
Vendors Fill Gaps for Working Parents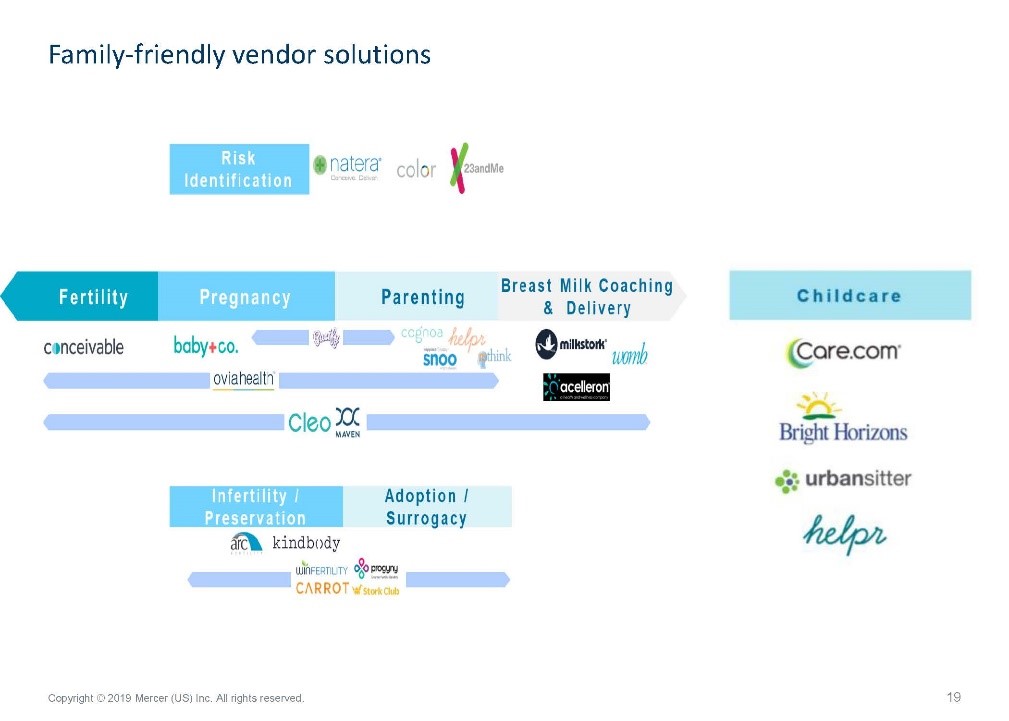 With family-friendly benefits gaining traction, there's been an explosion of vendor solutions to satisfy the need. Dave Kerrigan, the founder and managing director of Sante Nasc, a consulting firm that connects benefit professionals to the latest innovations, is a passionate advocate of these developments. "Certain benefits are no longer 'nice to have' – they are becoming table stakes for employers to attract and retain employees," he said. "Understanding the landscape of new and emerging solutions is critical."
Dave Kerrigan moderated a panel of family-friendly benefit vendor innovators. The first step these businesses take is to help employers identify the gaps in their current plan designs that don't support the culture they're trying to achieve. "Many people want to have children – heterosexual and homosexual couples as well as single workers," said Brent Atkins, Senior Vice President for Progyny, a comprehensive and inclusive fertility solution. "We make those dreams possible, which improves employee loyalty. In fact, 62% of employees who had their in-vitro-fertilization sponsored by their employer state that they are more likely to stay longer with their company."
Supporting breast feeding is another popular trend, and more employers are creating designated spaces to avoid uncomfortable encounters in the work place. "We provide a technology bridge that supports mothers emotionally in their return to work," said Amy Van Haren, pumpspotting's founder and CEO. The company's RV travels across the country to bring attention to the need for designated employer breastfeeding spaces, and to answer lactation questions.
Acelleron facilitates breast pump coverage through health insurance plans. "Eighty-three percent of mothers breastfeed their baby at birth, and we improve long-term breastfeeding outcomes, which benefits the child and parents," said Suzy Vecchi, Acelleron's Director of Operations.
Maven, a virtual clinic for women's and family health, covers the family journey from fertility to maternity to back to work. They partner with another vendor to facilitate breast milk shipping for working mothers who travel. The online community provides access to a suite of providers, including obstetricians, psychologists, and care advocates. "By delivering the right care at the right time, we drive down C-sections, emergency room visits, and premature births," said Carolina Garcia, Regional Vice President of Sales for Maven. "These services cut healthcare expenses while improving a company's ability to attract and retain top talent."
---
Cynthia McGrath is a senior marketing communications professional who provides strategic consulting services to healthcare and educational organizations.
Share this post: