The Buzz at Health Insurance Market Outlook 2020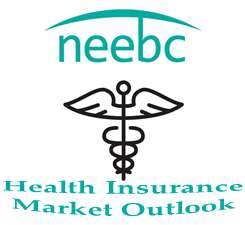 I was honored to moderate NEEBC's annual Health Insurance Market Outlook (HIMO) again this year. HIMO is a thought-provoking review and analysis of the health insurance marketplace from the perspectives of a national keynote speaker and a wide array of local, regional and national health insurers. 
This year's program kicked off with a keynote by Ellen Kelsay, Chief Strategy Officer and Future President & CEO of the National Business Group on Health (NBGH)*. Ellen provided insight into large employers' views on the rapidly changing health care environment and shared critical benchmarking information on health care cost, plan design trends and employer initiatives and priorities.  Her keynote was based on data collected from the NBGH's 2019 survey of large corporations in America.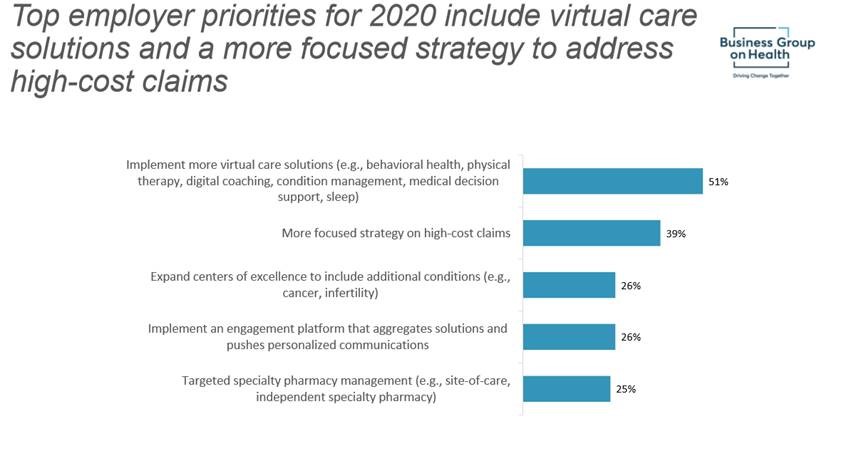 According to Ellen, the 2020 Trends to watch nationally include: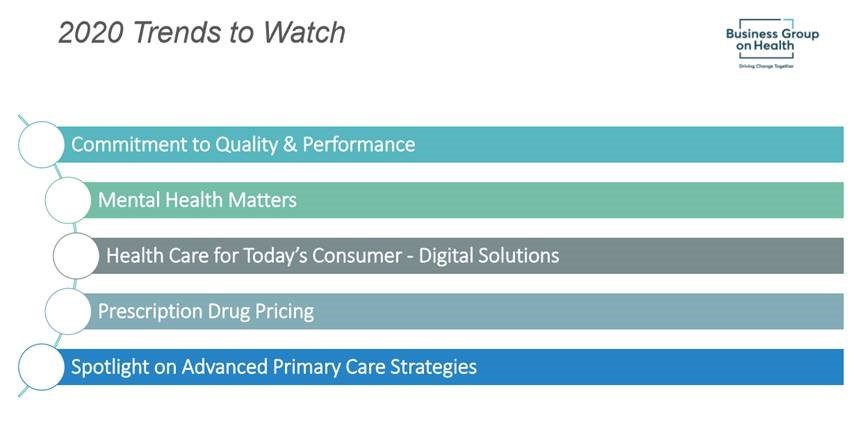 ---
Following the keynote were two panels comprised of leaders, including several clinicians, from:
Aetna 

AllWays Health Partners

Blue Cross Blue Shield of MA

Cigna

Fallon Health

Harvard Pilgrim Health Care 

Health New England

Tufts Health Plan

UnitedHealthcare
They addressed key issues and trends, including health care cost drivers, population health management, tools, programs and initiatives to improve the delivery, affordability and outcomes of health care. A few consistent themes and buzz words emerged over the course of the event:
Advanced, proactive primary care that takes a creative approach to service, is connected to the specialist community, influences downstream care and integrates physical and behavioral health within their practice (i.e., treats the patient holistically) was highlighted as a major trend.  It was suggested that employers should promote the PCP relationship (possibly through incentives) and identify and eliminate barriers to PCPs.


Virtual health care is also seen as an increasing and expanding trend, particularly for muscular skeletal and behavioral health issues, although the merits of using local doctors who understand the social determinants of health (SDOH) for the region versus a remote call center were debated. Offering virtual care for behavioral health issues also reduces the stigma associated with visiting a "brick and mortar" behavioral health facility.   Note: During her opening remarks, Ellen suggested using the term Social Drivers of Health to acknowledge that outcomes are not predetermined.


Several of the panelists thought that Consumerism in the form of choice and high deductible health plans plus HSAs has not had the intended consequences; it's been more about cost shifting.  All parties agreed that offering a more nuanced approach (e.g., more high-touch tools and concierge services) would simplify and improve consumerism.


Wellness is evolving to include everything necessary for overall health.  Plans are leveraging predictive modeling to identify high-risk members and engaging case workers to coordinate care, address SDOH, etc.


Improving care and outcomes and lowering health care and pharmaceutical costs were subjects for much of the discussion and the basis for a number of great ideas.
Ideas suggested for improving care and outcomes and lowering costs:
Move care away from hospitals for certain procedures (e.g., for injectables)

Reduce ED visits

Incent members to go to preferred providers

Contract with ACOs

"Liberate the data" (i.e., providers and plans must share the data)

Use SDOH to develop local, market-based plans

Analyze the total cost of care across medical and pharma
Ideas shared for specifically dealing with high-cost drug therapies:
Better management of medical benefit drugs

Swapping drugs on the formulary

Offering Point-of-Sale Rebates

Identifying outlier prescribers

Negotiating price caps
---
At the conclusion of each panel, to raise the discussion to a more macro level, I ended with the question: "How would you fix the 'broken' health care system?" The answers were very insightful and summarized much of what was discussed during the event:
Drive employees/patients to high-quality providers





Incent and encourage quality care





Fix the ACA; all states should have a solution like Massachusetts





Institute a national electronic medical record (EMR)





Require the sharing of data between providers and plans
And, I suggest we also need to further expand the use of both upside and downside risk when contracting with larger health systems.  When doing so, we must be careful to respect the decisions of state regulators.
---
With a great panel of speakers and thought-provoking Q&A from the audience, the Health Insurance Market Outlook is a not-to-be-missed event for all employee benefits professionals.  It's no surprise that 96% of the attendees surveyed answered that they would probably attend the program again next year!
*The National Business Group on Health is a non-profit organization that leads initiatives to address the most relevant health care issues facing employers today.
---
David Chamberlain is a Principal at Strategic Benefit Advisors. He can be reached at [email protected]
Share this post: