Connecting your employees to valuable health & wellness benefits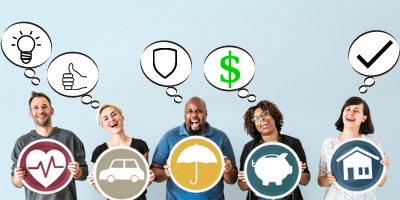 For many employers, annual enrollment season is fast approaching. You've likely made hundreds of decisions and spent an exorbitant amount of effort to optimize your spend while providing the best benefits package to employees. Why? Because benefits matter. They matter for a variety of outcomes that employers seek – like employee attraction and retention, improved health outcomes, total well-being, and overall satisfaction. But, we know the average employee spends only 17 minutes on their annual enrollment activities1. So, how do you get your employees to pay attention (or even notice) your benefits? We recommend getting them to focus on the most impactful and valuable benefits first.
Our research
At Fidelity Investments®, we have spent the past year conducting and analyzing research on how employers and employees value their benefits. We analyzed the data from many perspectives (recruitment, retention, well-being), but for this discussion, let's focus on the benefits that impacted employee well-being.

When we looked specifically at health, wellness and work-life benefits, we found that there were seven key benefits that offered an increase in well-being just by being offered, regardless of utilization. A different set of seven benefits required employees to use them to get a meaningful boost to their well-being.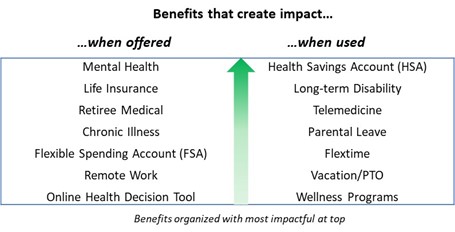 Many of the benefits on the left-hand side of the chart are what we might consider "just-in-case" benefits – giving employees the security of knowing there is help available if they need it. Knowing you have benefits for mental health support and chronic illness – if you aren't already using them – is reassuring should your life situation change. And, before COVID-19, having the ability to work remotely offered people peace-of-mind if they needed some balance across work and life. Although this research was completed before the start of the pandemic, we would expect employers already offering remote work and mental health benefits have been better positioned to help their employees through these tough times.
The benefits that need to be used to appreciate their full value (right-hand side of the chart) include some of the newer employer-sponsored benefits. Here we see that it's especially important for employees to try them out and learn how to make the most of them. This is true of wellness programs, health savings accounts, and, up until COVID-19, telemedicine.
---
What you can do 
Now that we've covered some of the most valuable benefits, what should you do?
1. Gauge employee awareness.
Too often we hear employees don't know what is available to them, and we found that to be true even for the most impactful health, wellness, and work-life benefits. Of the 14 benefits we identified as valuable, 30% or more of employees didn't know about nearly half of them. The lowest levels of awareness per category:
Impactful when offered: chronic illness management, retiree medical, online health decision tool


Impactful when used: telemedicine, flextime and wellness programs
Again, due to COVID-19, we'd expect to see a higher level of awareness around telemedicine now, but even so, getting a sense of your employees' awareness of your benefits is an important step to know where to focus your energies.
2. Promote the use of highly impactful benefits.
Once you have a sense of your employees' awareness, you need to promote the use of these benefits, particularly those that require use to be impactful. We found low usage in many of these benefits. Health Savings Accounts, for example, had only 50% of the employees signing up. Assessing your usage rates of these key benefits is important – and positioning them prominently in annual enrollment will help.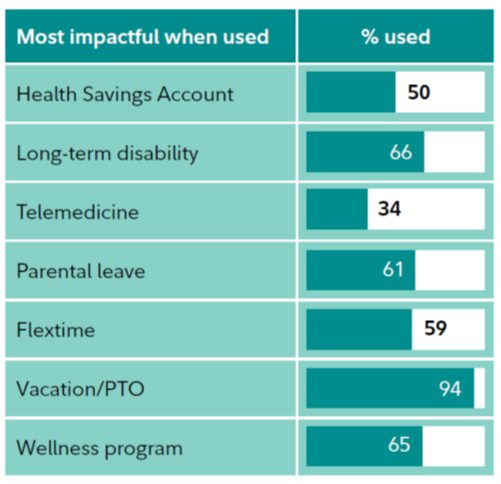 3. Message with empathy.
For each of these benefits, we asked our survey respondents about the value they provided. Our results showed that most employees who signed up for these benefits thought they had a positive impact on their health care or their work life. For example: 
89% of HSA users say that having the HSA has a positive impact on their lives, with the majority (62%) indicating that it helps with their ability to pay for health care.





88% of flextime users see its value, with more than half citing that it increased their willingness to stick with their job.





When you communicate these benefits, do so with a message that will resonate with employees and demonstrate how the benefit will help with their life. Leading with an empathetic message will help with greater adoption.
---
Conclusion
Benefits are expensive, and you have limited opportunities to get the full attention of your employees to showcase them. Use that limited time wisely and focus on communicating and promoting the benefits that can impact their well-being the most. But make sure you do it in a way that means something to them and demonstrates the benefit's value beyond the superficial. And with any luck, they will spend more than 17 minutes evaluating their options and appreciating what you've worked so hard to provide.
To read more on this research, read Raising the grade on your benefits or Uncovering the value of the benefits you offer.  To read more about benefits that employees value, read our March 31, 2020 Flexible and Remote Working – Powerful Benefits for you and your employees post on this blog site.
---
Nancy Emerson is Vice President, Health Care Thought Leadership at Fidelity. She can be reached at [email protected]
1Based on Fidelity recordkept data through December 31, 2019. Source of enrollment channel captured by Fidelity systems.
"Fidelity Employer Value of Benefits Survey, 2019" Data represent Fidelity Employer Value of Benefits online survey of 1,600 American employer representatives in HR, Benefits, and compensation. ResearchNow, an independent third-party research firm, conducted the survey August, 2018, on behalf of Fidelity. ResearchNow and Fidelity Investments are independent entities and are not legally affiliated.
Fidelity Investments Employee Value of Benefits Research online survey of 9.465 active Fidelity 401(k) and 403(b) participants from across the United States. The survey was conducted by Health Solutions Thought Leadership in October 2019.
Fidelity Workplace Services, LLC, 245 Summer Street, Boston, MA 02210
©2020 FMR LLC. All rights reserved.
945741.1.0
Share this post: