Welcome To NEEBC!
New England's largest provider of benefits resources and education!
The New England Employee Benefits Council (NEEBC) was founded in 1979 to promote discussion, networking, and informational exchange among the region's employee benefits practitioners. Since that time the organization has grown to 1,350 members representing both purchasers and providers of benefits services and products. NEEBC remains committed to providing high quality benefits-related education while fostering sound procedures, principles and practices in all areas of our industry.
Announcing NEEBC's Annual Benefits Fair and Trade Show Exhibiting Opportunity - June 5, 2014!
Meet our region's largest and most diverse group of employee benefit buyers, representing New England's leading employers at New England's premier benefits conference. This is an opportunity not to be missed if your organization offers products and/or services which impact employee benefits professionals!
Reserve your space now to take full advantage of this limited opportunity as a 2014 exhibitor!
Achieve Maximum Industry Exposure by participating as a Sponsor at NEEBC's Annual Benefits Fair & Trade Show - June 5, 2014
New England's Premier Benefits Industry Event!
Click here to participate.
Behavioral Finance In Retirement Plans: Are We Talking out of Both Sides of our Mouths?
March 7, 2014: Employers offer education and access to information, yet employees seem to be unmotivated. Is plan design the answer for defined contribution plans? What do employees need, and what can employers provide without crossing the fiduciary line? What do employees say they want, and what does the data actually show us?
Please join us in a discussion of how these issues impact employer plan design and communication.
To register click here.
Many thanks to our sponsors for this program:
Please join us for this important Benefits Club Luncheon on Tuesday, March 18, 2014:
Health Care Reform Update: Parsing the Final ACA Pay or Play Regulations
This program will explain the key features of the newly issued final regulations:
What changes were made to an earlier proposed rule, and why
What employers will need to do, and when
Options available to employers under the final rules and how they will affect group health plan design and operation
Click here to register.
Announcing Brand New Partnership Opportunities for 2014: Gain visibility with top decision makers in the New England Employee Benefits Industry
Click the image for more information: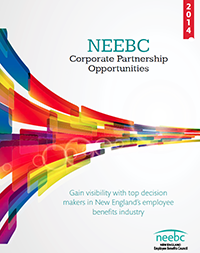 Your NEEBC membership renewal invoice should have arrived by now...
We sincerely hope you are planning to renew. We have many exciting initiatives, programs, and member service enhancements planned for 2014. Click here to see a list of your colleagues who have already renewed for 2014! And as always, give us a call if you need another copy of your invoice or help with anything at all - 781-684-8700 - NEEBC is YOUR organization!
---
Advertise your benefits-related services and products to our 1,300 members - including most major employers by placing an ad in NEEBC's Online Benefits Resource Directory!
Click here to participate.
---
NEEBC extends $50 discount to upcoming NEHRA Wellness Program. To take advantage of this offer, please use the code WELL2014 at checkout.
Click here for more information.