Welcome To NEEBC!
New England's largest provider of benefits resources and education!
The New England Employee Benefits Council (NEEBC) was founded in 1979 to promote discussion, networking, and informational exchange among the region's employee benefits practitioners. Since that time the organization has grown to 1,350 members representing both purchasers and providers of benefits services and products. NEEBC remains committed to providing high quality benefits-related education while fostering sound procedures, principles and practices in all areas of our industry.
NEEBC's 2014 Benefits Fair and Trade Show
The Benefits of Engagement: Connecting with Your Diverse Workforce
Join Dynamic and inspiring speakers as they discuss the many forms of diversity in the workforce. Learn strategies for connecting with your employees, and discover the benefits engagement can bring to your business. Visit with more than 50 vendors and enjoy our innovative Benefits Bar, which will provide short "how to" sessions on topics ranging from social media to advancing your career.
Strategic Connection Series Program #2:
Thriving in Retirement: How Much is Enough?
Planning for retirement is essential and complicated, and the most difficult question to answer is, "How much is enough?" Join us on Friday, April 25th as leading retirement plan experts discuss how to engineer effective wealth accumulation strategies for successful retirement experiences.
To register click here.
Are you are a young practitioner dedicated to advancing your career? Please join us for NEEBC's "Next Generation Series" program: "Strategic Planning for Success in the Employee Benefits Industry"
Wednesday, April 30, 3:45 - 5:00 pm, with a Social Hour following the program at Ropes & Gray in Boston.
To register click here.
Announcing Brand New Partnership Opportunities for 2014: Gain visibility with top decision makers in the New England Employee Benefits Industry
Click the image for more information: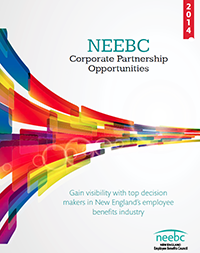 Your NEEBC membership renewal invoice should have arrived by now...
We sincerely hope you are planning to renew. We have many exciting initiatives, programs, and member service enhancements planned for 2014. Click here to see a list of your colleagues who have already renewed for 2014! And as always, give us a call if you need another copy of your invoice or help with anything at all - 781-684-8700 - NEEBC is YOUR organization!
---
Advertise your benefits-related services and products to our 1,300 members - including most major employers by placing an ad in NEEBC's Online Benefits Resource Directory!
Click here to participate.