Welcome To NEEBC!
New England's largest provider of benefits resources and education!
The New England Employee Benefits Council (NEEBC) was founded in 1979 to promote discussion, networking, and informational exchange among the region's employee benefits practitioners. Since that time the organization has grown to 1,350 members representing both purchasers and providers of benefits services and products. NEEBC remains committed to providing high quality benefits-related education while fostering sound procedures, principles and practices in all areas of our industry. To learn more about NEEBC and membership opportunities, click here.
NEEBC Testimonials Video Debut!
Please take a look at our brand new membership video masterfully shot & edited by Rachel Globe and learn more about why our loyal members love NEEBC!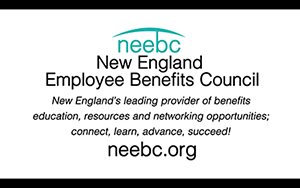 Join us for this important Benefits Club Luncheon on Tuesday, 9/16/14: 403(b): Are You in Compliance?


While many 403(b) plans are often run like 401k plans, due diligence, careful planning and thoughtful execution are critical to survival in the heightened era of intense fiduciary scrutiny.
A panel of industry leaders will provide the expertise and insights you need for excellent stewardship of your 403(b) plans.
Click here
to register!
Friday, September 19th! NEEBC's 2014 Washington Update: An Annual Must for Benefits Professionals!
This program features expert briefings by senior representatives from the U.S. Department of Treasury, The Department of Labor, and the Committee for a Responsible Federal Budget with overviews of emerging trends in health care and retirement policy-making, recent benefits legislation and guidance, and key insights into congressional action - we hope you will join us for this important and timely program!
To register - click here
NEEBC Partners with WorldatWork for a special two-day Seminar on
"Benefits Outsourcing" (B12)
Thursday & Friday, October 9 & 10, 2014

(Click on logo to register)
2014 Survey on Health & Wellness Processes and Practices
NEEBC is excited to debut our first survey on health and wellness processes and practices. We're happy to share these results with you. Click here for a PDF of the survey results. Click here for an Executive Summary.
Benefits Extra Summer 2014 Newsletter
Click the image to view the newsletter: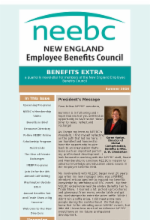 NEEBC & JOBTARGET Offer a Powerful Career Center
Take advantage of New England's Best Benefits Job Posting Service!
For all the resources Job Seekers & Employers need - click here.
2014 Benefits Fair and Trade Show - Recorded Sessions now available here!
The Benefits of Engagement: Connecting with Your Diverse Workforce
Did you miss the NEEBC Benefits Fair and Trade Show this Year? Recorded sessions of these terrific presentations are now available!
Get instant access to quality information on the topics concerning you. These sessions contain the original live broadcast along with the audience Q&A portion at the end of each session. [read more]
Announcing Brand New Partnership Opportunities for 2014: Gain visibility with top decision makers in the New England Employee Benefits Industry
Click the image for more information: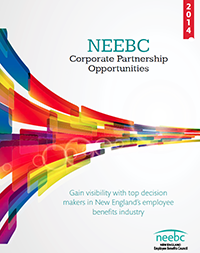 ---
Advertise your benefits-related services and products to our 1,300 members - including most major employers by placing an ad in NEEBC's Online Benefits Resource Directory!
Click here to participate.