Navigating Transgender Leave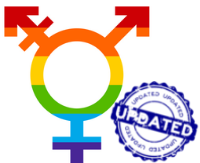 Introduction
The societal understanding of what it means for an employer to be truly inclusive of all diversity groups has expanded exponentially since the turn of the 21st century. Employers are increasingly faced with multifaceted Human Resources related topics including cannabis, cybersecurity, sexual harassment, and a push, in many states, for equal opportunity for paid leave. Equal opportunity accommodations do not just vary between male and female employees but also between groups based on race, religion, and gender identity.
Gender identity itself varies extensively, but one concentration is the difference between individuals that identify as either cisgender (the same gender as their sex at birth) or non-cisgender (not the same gender as their sex at birth). The non-cisgender identity includes a wide umbrella of individuals who do not identify or present themselves with the sex they were assigned at birth, including transgender (not the same gender as their sex at birth) and non-binary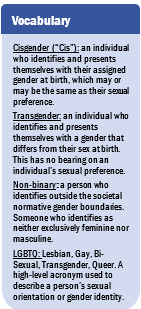 (neither exclusively female or male) individuals. This particular group of individuals has historically faced major roadblocks in society and until recently, had not experienced inclusion and accommodations in the corporate world. Even with the progress that has been made, there is still a gap in today's employee benefits environment for anyone deviating from "the norm".
To begin with, most transgender individuals have different day-to-day fundamental needs, such as public (retail stores, restaurants, etc.) accommodation, legal protection, and healthcare access than cis-LGBQ individuals. This gap in provided care and accommodation practices appears in a variety of system-related and brick and mortar ways, but also in regard to compassion and understanding regarding an employee's reason for needing time away from work, and often whether or not they are granted a requested leave of absence.
We are happy to report that the Human Rights Campaign (HRC) Foundation reported a record number of 767 companies achieving a top score for LGBTQ-inclusive workplace policies in 2021, up from 686 companies in 2020. The report also shows that 94% of Fortune 500 companies have gender identity protections in their nondiscrimination policies, and that 71% of Fortune 500 companies offer transgender-inclusive health insurance, something that zero companies were providing in 2002. Despite this tremendous advancement, throughout the United States the trans population is still up against unique challenges and hardships, particularly when it comes to intentional or unintentional employment-related adversity.

Patchwork of Protections

While areas of the United States are becoming more progressive and accepting of the overall LGBTQ community, and indeed there are some regulations in place to protect this population, laws remain ambiguous at best and nonexistent at worst (i.e. in certain states). At the federal level, The Civil Rights Act of 1964 outlaws employment discrimination on the basis of "sex", among other things, but until recently, the term was vague and ill-defined. This ambiguity caused historical irregularity in not only leave management but also court handlings. Because of this uncertainty, Congressional Democrats recently reintroduced the Equality Act, which would add "sexual orientation" and "gender identity" to the groups protected by the Civil Rights Act. The bill passed the House in May of 2019. Then, in June of 2020, the U.S. Supreme Court ruled that the Civil Rights Act does protect against gay or transgender employees from employment discrimination, effectively outlawing termination for sexual orientation or gender identity reasons. Most recently (May of 2021), President Biden restored a provision of the Affordable Care Act (ACA) that protects against sexual discrimination in healthcare, including sexual orientation and gender identity.
In the well-known case of Macy vs. Holder/Department of Justice, the court ruled that The Civil Rights Act does protect against gender identity and transgender discrimination. In this scenario, a police detective, at the time presenting herself as a man, aligning with her birth gender, interviewed for a job in California. A director at the company informed the individual that the position would be theirs as long as their background check did not present any 'problems'. Following the individual's open commencement of transition and promptly following a notification to the hiring company, the individual was informed the position was 'no longer available'. Although this instance concluded in favor of the prospective employee and can serve as a guide and a beacon of hope for the transgender community, it does not mean that a different court will rule the same.

Many pieces of legislation are outdated simply by having language that omits a large portion of the population. The Americans with Disabilities Act, for example, does not count transsexualism in itself as a disability, but medical conditions that may result from a difference between someone's gender identity and sex assigned at birth, such as gender dysphoria, are not excluded.1 Further, the ADA may cover side effects from transgender exclusion, such as depression, drug addiction, and alcoholism.
LGBTQ rights is one area where federal and state regulations often clash. From a statutory perspective, the following jurisdictions have the highest regard for LGBTQ equality, with laws in place that specifically and pointedly protect against transgender discrimination:
California

Colorado

Connecticut

Delaware

Hawaii

Illinois

Iowa

Maine

Maryland

Massachusetts

Minnesota

Nevada

New Jersey

New Mexico

New York

Oregon

Rhode Island

Vermont

Washington

Washington, D.C
.
New Hampshire, Delaware, Virginia, New Mexico and Puerto Rico are rated as "medium" when it comes to LGBTQ protective policies. In addition, the cities of Atlanta, Austin, Kansas City, Milwaukee and Philadelphia, among others, have their own ordinances in place, regardless of their state's stance. This can both assist with and complicate matters, as does the fact that several states (Alabama, Georgia, Nebraska, South Carolina, South Dakota, Tennessee,) are classified as having "negative" policies when it comes to transgender rights2: Luckily, with the 2020 Supreme Court Ruling, employees in states without transgender protections still have legal recourse if they are fired for their sexual orientation or expression. This protection, however, does not cover all hardships a person could face such as difficulty in being hired or interviewed, experiencing harassment, or being treated differently when it comes to pay and career advancement.
The Equal Employment Opportunity Commission (EEOC) is an independent federal agency that aims to safeguard transgender workers and uphold the Equal Employment Opportunity (EEO) laws. The EEO laws state that a person cannot be denied a job, fired, or harassed due to their gender identity. It also mandates that employees be given access to the restroom that coincides with the gender with which they identify, regardless of what it may say on their birth certificate. Most recently (May of 2021), President Biden restored a provision of the Affordable Care Act (ACA) that protects against sexual discrimination in healthcare, including sexual orientation and gender identity.
Despite movement forward, legal protections for the transgender population are full of disparities and confusion and may or may not be strictly enforced. Regardless of your political stance, lawsuits, grievances, and recruitment and retention problems surrounding transgenders in the workplace will continue to arise. In March of 2019, for example, the state of North Carolina was sued for having a health plan that violates federal law by eliminating coverage of certain medically necessary procedures for transgender people. Just before, in February of 2019, an Iowa nurse was granted $120,000 in damages as a result of being barred from using the gender exclusive restroom with which he identified. In 2021, despite recent progress, we have seen a record-setting number of anti-LGBTQ legislation, including a bill that outlaws gender-affirming treatment for minors in Arkansas; laws that allow discrimination based on religious principles in Montana and South Dakota; and many others related to sports, education, and birth certificates.3

Medical Procedures

From an outside cis perspective, what is often sensationalized the most related to transgender employees taking leave is gender reassignment surgery. According to the National Survey of Transgender Individuals, approximately 55% of transgender women either have had or have wanted neovaginoplasty surgery, and 22% of transgender men have either wanted or have had phalloplasty surgery. It is important to note, though, that some transgender or non-binary individuals never have nor want to have surgery to align their physical anatomy with their gender identity.
Depending on the procedure, and without complications, an employee who chooses to undergo transitive surgery can expect to be out of work for about six weeks (although like any major surgery this may vary by individual). The financial costs and recovery time for an employee undergoing transgender surgery and hormone treatments may surprise you. Hormone replacement therapy costs are often undertaken alone by an individual, if not covered by an insurance carrier, and can cost around $130 a month out-of-pocket. Like all invasive surgeries, full transitive operations are costly
(up to $100K). Some health plans cover portions of these treatments, such as Medicare, which supports hormone therapy. Still, many individuals are left to tackle these costs themselves. In these cases, employers should at least be aware of the financial stress a transitioning employee is likely experiencing.

Gaps in Leave

Many working transgender individuals rely on sick leave or paid time off (PTO) banks as they recover from surgery, but it typically only covers a portion of the days taken. In terms of medical leave, FMLA leave should be an option, especially if there is overnight hospitalization at play, such as with a surgery. At this time, though, no clarifying law or regulation exists that addresses gender treatments specifically.
Instead, each instance must be fact specific in determining if it qualifies as a "serious health condition" under the FMLA. This has created challenges for trans and cis employees alike, as the federal definition may not include all treatments and conditions associated with things like Gender Identity Disorder (also known as Gender Dysphoria) or with a person's medically supervised gender transition. Further, even if the protection is granted, the leave is unpaid under the federal FMLA.
Paid leave may be available through Paid Family and Medical Leave (PFML) laws or specific employer paid leave programs. PFML laws provide paid leave for medical and family care reasons, wherein medical leave is available to eligible employees experiencing a serious health condition. The definition of serious health condition varies by state and may or may not apply to an individual's situation. These programs are currently in place in Massachusetts, Washington, and Washington, D.C. Connecticut, Colorado and Oregon will be implementing programs over the next few years. Additionally, states including California, New Jersey, New York and Rhode Island offer state disability insurance programs, wherein employees who meet the definition of disability may be eligible for paid leave. Similarly, many employers offer short term and long term disability to their employees, who may be eligible if they meet the specific conditions set forth. Various programs are continuously being considered by states and jurisdictions throughout the country, as well as on a federal level, so medical and disability leave programs may become increasingly available. Purchasing individual disability insurance as a transgender person is typically more difficult and costly, based on how the carrier calculates individual risk, but it is possible.
Parental leave is another area that is not always offered equally to transgender and cisgender employees. These policies are based on the definition of what qualifies as a parent, thus are subject to the specific federal, state or company-specific terms at hand. While the Department of Labor has clarified that employees, including LGBTQ employees, can take leave under the FMLA to care for a child for whom the employee is serving as a parent, even if there is not a legal or biological relationship to the child, the federal law does not recognize same-sex relationships. Employers continue to examine the inclusivity of their leave policies. A trend seen in the market is the language used to name and define leaves. Parental leaves, for example, are becoming more common than "maternity" or "paternity" leaves and may be available to "birth parents" or "non-birth parents" as opposed to a mother or father.
In some of these scenarios, it can be difficult for the individual as well as the employer to determine which kind of leave, if any, would best suit the employee's needs. As a rule of thumb, if your company has leave benefits for cisgender individuals, a transgender equivalent should be considered.


Accommodating Your Transgender Employees

It is important for employers, especially those with a robust benefits program, to be educated, have a plan in place and perhaps consider a unique accommodation program, preferably before a trans employee is hired or comes out to their manager or an HR representative.
The extent to which you change or complement your existing benefits program and corporate policies is up to you, but below are some guidelines for treating transgender employees equally and with compassion. It is important to remember that although transgender people represent a minority group, their basic necessities should be able to be reconciled, same as if they were cisgender; anything else may be considered discrimination. At a minimum, consider the following:
Educate yourself and the rest of your workforce as to correct pronoun usage and courtesy

Enforce or reinforce your discrimination policy; train your workforce to be aware

Understand what kind of coverage your health plan offers for things like hormone therapy, and consider alternatives if feasible

Define the family members for which an employee is eligible to take leave to include same-sex partners as well as the children of a same-sex partner, regardless of biological or adoptive status

Include Gender Identity Disorder and procedures relating to gender transition as qualifying conditions for employer granted medical leave for both the employee and their partners

Implement a flexible work schedule or leave policy (whether paid or unpaid) for treatments and non-medical appointments

Assign a suitably trained counselor or advocate for when your transgender employee returns from their leave

Update your restroom and dress code policies for greater inclusivity – potentially including non-gendered restrooms

Update records to reflect name and gender changes, as applicable

Respect the privacy, or willingness to go public, of employees who are coming out as transgender to you


Conclusion

LGBTQ, and more specifically transgender, rights have become a hot topic and a widely debated political issue. Our intent here is not to change your beliefs or take a political stance, but merely to increase awareness of the reality of this timely and increasing human resources challenge.
1Result of Kate Lynn Blatt v. Cabela's Retail, Inc. 2017.
2https://transgenderlawcenter.org/equalitymap
3https://www.hrc.org/press-releases/2021-officially-becomes-worst-year-in-recent-history-for-lgbtq-state-legislative-attacks-as-unprecedented-number-of-states-enact-record-shattering-number-of-anti-lgbtq-measures-into-law

---
Written by Karen English and Jessie Marshall of Spring Consulting Group, LLC — AN ALERA GROUP COMPANY.
Karen can be reached at [email protected]; Jessie can be reached at [email protected].
Share this post: