The Stats Don't Lie...Workplace Accommodations for Breastfeeding Employees
Breast milk is best for a working mother's baby. According to the Centers for Disease Control's (CDC) latest Breastfeeding Report Card, in the U.S., around 83 percent of babies are breastfed. The increasing trend and high breastfeeding initiation rates are proof that most mothers want and intend to feed their babies breast milk. 
However, as each month passes from the initiation, the number of infants receiving human milk drops, despite the World Health Organization's (WHO) recommendation of "exclusive breastfeeding up to 6 months of age, with continued breastfeeding along with appropriate complementary foods up to two years of age or beyond." These declining rates as time goes on indicate that mothers may not be getting the support they need from family members, health care providers, and employers to meet their breastfeeding goals.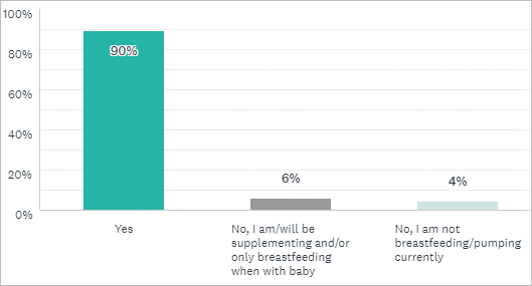 According to research from Acelleron, a health and wellness company, 90 percent of moms surveyed are either already pumping at work or planning to pump at work! Of concern, only 43 percent know with certainty that their company has a breastfeeding policy. Additionally, just 50 percent of these moms' employers have a lactation/mother's room to pump in. This is federally mandated for companies with greater than 50 employees. Seventy-eight percent of these moms said their employer has greater than 50 employees, meaning they are not meeting the federal requirements for protecting breastfeeding moms in the workplace!
The good news, despite many employers not having a room to pump in, 83 percent of the moms surveyed still feel their employers are supportive of their breastfeeding/pumping needs! However, nearly 25 percent of moms have considered a job/career change due to their need to pump at work.
Only 16 percent of the moms surveyed said their employers provide breastfeeding/pumping education, support, and/or counseling during or after pregnancy, meaning more employer lactation support programs are needed.
---
What can your organization do better?
Below are some of the ways you can support breastfeeding moms returning to work:
Access to a 24/7 lactation support helpline

Online breastfeeding education courses

Milk transport services for pumping moms traveling for business

Create a lactation/mother's room for breastfeeding employees to pump in (if none exists)

Enhance the look and feel of an existing lactation room

Provide a multi-user/hospital-grade breast pump in the lactation room

Provide essential breastfeeding supplies like cleaning wipes, milk storage bags, nursing pads, etc., to make pumping easier and more convenient
These suggestions are not just family-friendly benefits, they are health-friendly benefits which can help attract, retain, and support breastfeeding employees as well as make an impact on the health of moms and babies.
---
Suzanne Vecchi is the Director of Operations at Acelleron.  She can be reached at 978-738-9800, [email protected]
Share this post: